A Meals on Wheels Thanksgiving means so much to so many seniors.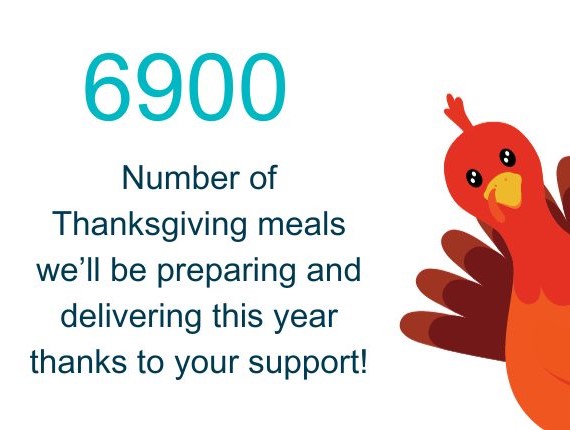 This time of year, we give thanks and gather with loved ones and friends, sharing a delicious meal we know we can count on. But for many homebound seniors in the Bay Area, Thanksgiving can be a lonely day spent with little – or nothing – to eat.  With your support, this year we're making the Thanksgiving holiday extra special for the older adults we serve every day! 
We're serving up more Thanksgiving meals than ever before for seniors living in San Francisco and Northern San Mateo County! Here's what's cookin' in our kitchen:
Pounds of Mashed Potatoes
Pumpkin Chiffon Pie Recipe
My grandmother always made this for Thanksgiving, offering something a little lighter than traditional pumpkin pie after "the big meal." I hope you and your family enjoy it too!
~ Executive Chef, Richard Crocker
This year, we've launched our Holiday Meals Campaign to ensure that while we all celebrate with friends and family, no senior spends this holiday season hungry and alone. If you'd like to support homebound seniors, your generous gift will provide nourishing meals now and throughout the holidays. Thank you!