The annual March for Meals celebration commemorates the historic day in March of 1972 when President Nixon signed into law a measure that amended the Older Americans Act of 1965 to include a national nutrition program for seniors 60 years and older. This March, Meals on Wheels programs from across the country are joining forces to celebrate more than 50 years of success and garner the support needed to ensure these critical programs can continue to address food insecurity and malnutrition, combat social isolation, enable independence, and improve health for years to come.
District 3 Supervisor Aaron Peskin and George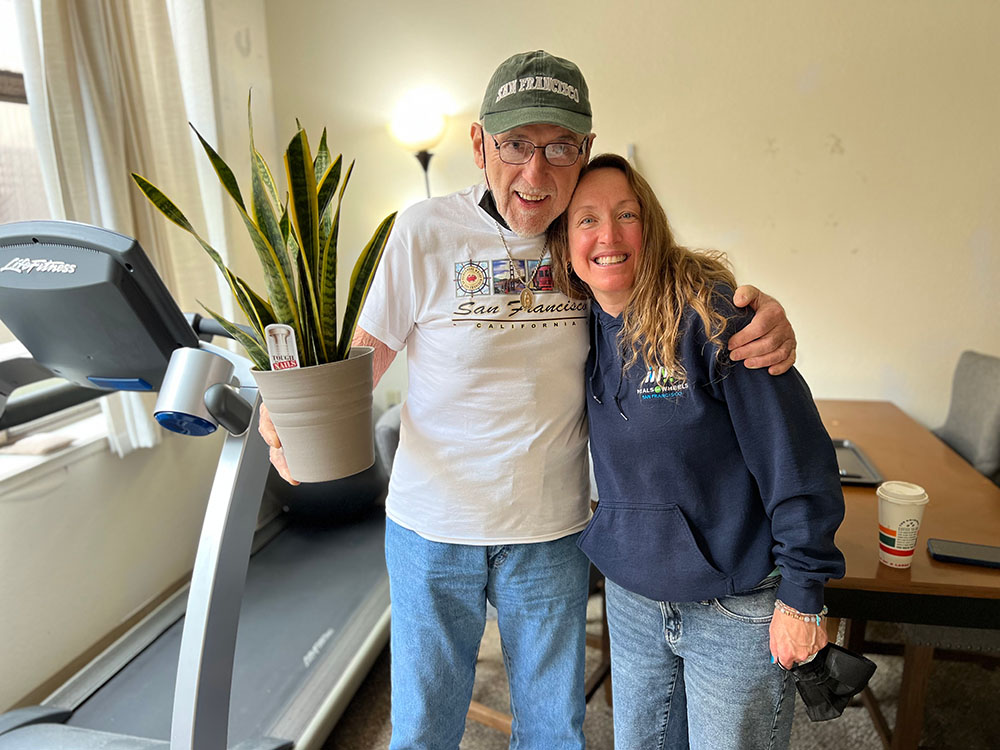 MOWSF Social Worker Kristi Hirsch and George
District 10 Supervisor Shamann Walton, Roslyn, and MOWSF Social Worker, Lois Heaton-Camacho
District 9 Supervisor Hillary Ronen, Santiago Lerma, and Kristi Hirsch
MOWSF Social Worker Kristi Hirsch, Tom, District 9 Supervisor Hillary Ronen, Santiago Lerma, 
2023 Meals on Wheels National Advocacy Agenda
Increase funding and support for senior nutrition programs
Provide adequate funding for the Older Americans Act (OAA) in FY 2024 to address the increasing demand for nutrition services and higher operating costs.
Protect other federal funding sources supporting local Meals on Wheels programs in FY 2024, including Social Services, Community Services and Community Development Block Grants, and Medicare and Medicaid home- and community-based services (HCBS).
Enhance the Supplemental Nutrition Assistance Program (SNAP), the Commodity Supplemental Food Program (CSFP), The Emergency Food Assistance Program (TEFAP), and the Seniors Farmers' Market Nutrition Program (SFMNP).
Improve Charitable giving and volunteer tax incentives to generate more resources and expand program capacity.
Strengthen and secure nutrition access for older adults.
Maintain 100% funding transfer authority between OAA Title III-C home-delivered and congregate nutrition services as allowed during COVID-19 Public Health Emergency.
Modernize OAA regulations and guidance to support local senior nutrition programs, including those regarding meal delivery methods, such as grab-and-go, and other service innovations.
Reauthorize the Farm Bill to address senior hunger and malnutrition, including protecting SNAP, improving benefits coordination, broadening access for homebound individuals, and enhancing interagency collaboration.
Advance food as medicine interventions.
Establish home-delivered meals as a fully reimbursable benefit through fee-for-service Medicare, Medicare Advantage, and Medicaid.
Implement medically tailored meal pilots and initiatives that utilize community-based senior nutrition programs.
TELL CONGRESS TO PROTECT OLDER AMERICANS
Meals on Wheels is powered by people just like you. Together, we are millions of seniors, volunteers, dedicated staff and donors strong. We need your help to fund and protect the programs that support seniors.
Email your U.S. Senators and Representative today!
2021 March for Meals: This year's celebrations across the country look a little different as a result of the pandemic due to concerns with COVID-19.