2019 Star Chefs & Vintners Gala
Live Auction
Auction Lot #1 A Year of Tsar Nicoulai Caviar and Dom Perignon
Auction Lot #2 Star Chefs & Vintners Instant Wine Cellar
Auction Lot #3 Kanzler Family Vineyards and Chef Dustin Valette of Healdsburg's Valette Restaurant Culinary Retreat in Russian River for 8
Auction Lot #4 Chefs Evan and Sarah Rich partner with Andy Peay of Peay Vineyards Dinner for 8 in Your Home
Auction Lot #5 Unequalled Collection of Large Format Etched Bottles
Auction Lot #6 Nico's Chef Nicolas Delaroque + Robert Sinskey Wines: Dinner for 8 in Your Home
Auction Lot #7 End the Weekend with an Extraordinary Evening in Napa: Chef Laurent Gras of Saison and Angler Prepares Dinner for 8 at BOND
Auction Lot #8 Luxury Vacation over the Winter Holidays in St. Barths – December 21 – 28, 2019
Auction Lot #9 Evening with Three Good Friends (and Co-Owners of Clos Pissarra Vineyards): Gerald Hirigoyen, Laurent Manrique, and Emmanuel Kemiji – Dinner for 8 in Your Home Paired With Clos Pissarra
Auction Lot #10 Wine Paired Dinner by Chef Laurence Jossel from NOPA and Overnight Stay at Hamel Family Wines for 6
Auction Lot #11 When Che Fico Meets The Plumed Horse: Chefs David Nayfeld and Peter Armellino Prepare Dinner For 8 in Your Home
Auction Lot #12 An Alexander Valley Food & Wine Experience for Four
Auction Lot #13 Lunch Al Fresco with The Hirigoyens: Father & Son Host Lunch for 12 at The Hirigoyen's
Auction Lot #14 Once-in-a-Lifetime Buy-In Dinner: James Beard Nominees with Williams Selyem Wines
Auction Lot #15 VIP Tasting and Education for 14 – Favia Wines, TOR Wines, and lunch at Brix with overnight at The Westin Verasa
Auction Lot #16 Modern Morocco: Chef Mourad Lahlou Cooks Dinner for 8 in Your Home
Auction Lot #17 Personally Guided trip to Italy with Chef Nancy Oakes for Four
---
Auction Lot #1
A Year of Tsar Nicoulai Caviar and Dom Pérignon

Is there anything nicer than opening your mailbox to find a package of sustainably cultivated, fresh artisanal caviar and a bottle of crisp, sparkly Dom Pérignon? There is: Finding that package in your mailbox 12 times a year! One whole year of Tsar Nicoulai caviar and Dom Pérignon Champagne. Behold, the perfect way to ensure that you'll always have spectacular snacks on hand whenever unexpected guests ring your doorbell. To jump-start your role of Best Host Ever, win this lot and get Tsar Nicoulai Caviar and Dom Pérignon service delivered to your table . . . tonight!
---
Auction Lot #2
Star Chefs & Vintners Instant Wine Cellar
What a gorgeous way to bring some of tonight home with you: Many of tonight's participating vintners have generously donated a bottle to help create one glorious instant wine cellar. You can expect to enjoy over five cases of amazing wine.
Highlights of your future wine cellar include some of the names you'll hear this evening:
Ballentine Vineyards
Cakebread Cellars
Cattleya Wines
Crocker & Starr
Duckhorn Portfolio
Dutton-Goldfield
Eco Terreno
Galerie
Gary Farrell Winery
The Grade Cellars
Gran Moraine
Hanzell Vineyards
Hard Six Cellars
Herb Lamb Vineyards
Knights Bridge Winery
La Sirena Winery
Landmark Vineyards
Lede Family Wines
Merry Edwards Winery
Morlet Family Vineyards
Orin Swift Cellars
Papapietro Perry Winery
Paradigm Winery
Peay Vineyards
Radio-Coteau
Ridge Vineyards
ROAR Wines
Small Vines
Spring Mountain Vineyard
Stag's Leap Wine Cellars
Talisman Wine
Trois Noix Wine
Vineyard 29
MOWSF is not responsible for shipping costs outside of the Bay Area
---
Auction Lot #3
Kanzler Family Vineyards and Chef Dustin Valette of Healdsburg's Valette Restaurant Culinary Retreat in Russian River for 8
A quiet retreat into nature, you and 7 friends will enjoy a weekend stay at the Kanzler Family Vineyards to relax and refresh your relationship with the land and your inner vintner.
You'll spend 2 nights in the vineyard's spacious and comfortable 4-bedroom farm stay house. Situated in the heart of the vineyard, surrounded by vines, you are sure to enjoy the beauty and charm of the property.
Once you've settled in you'll savor dinner prepared by Chef Dustin Valette. Chef Valette, owner of the restaurant that carries is name, who was called the "shining star" of Healdsburg by Zagat, will collaborate with Winemaker Alex Kanzler to create a perfectly paired feast. After a good night's sleep, you'll enjoy an afternoon tasting and lunch at Martinelli Winery.
To top the entire weekend off, SFBenz will deliver a 2019 Mercedes-Benz GLC350E Plug-In Hybrid to the homes of Two of the Winning Couples, so everyone can carpool to The Russian River Valley in comfort and style.
All food and wine costs are included.
Value: $3,000/Private chef and wine experience — Priceless
Stay must be booked on a mutually agreed upon dates by winner, winery and chef.
---
Auction Lot #4
Chefs Evan and Sarah Rich partner with Andy Peay of Peay Vineyards Dinner for 8 in Your Home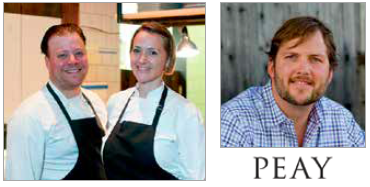 Your table will become Rich Table for the night, when Chefs Evan and Sarah Rich take over your kitchen to create a meal for 8 with their signature fresh, surprising combinations of ingredients. What Michelin calls their "casual Californian fare with fine-dining precision" walks hand-in-hand with top-rated wines from Peay Vineyards, presented in person by Andy Peay. All lovely evenings must come to an end, but at least this one will close with Chef Sarah Rich's original and celebrated desserts.
All food and wine costs are included
Value: $3,000/Private chef and wine experience — Priceless
Dinner must be booked on a mutually agreed upon dates by winner, chef and winemaker.
---
Auction Lot #5
Unequalled Collection of Large Format Etched Bottles
With the assistance of some very generous vintners we have assembled a remarkable collection of 3L Double and 1.5L Magnums. Honestly, we could have offered you an interesting collection of magnums, but having 22 Etched Magnums from some of California's Most Coveted Winemakers makes this prize especially intriguing.
This incredible collection includes:
3L Double Magnums:
Alienor Grand Vin 2009 Red Wine
Ballentine Vineyards 2014 Reserve Cabernet Sauvignon
Barrett & Barrett 2009 Cabernet Sauvignon
Clark-Claudon Vineyards 2006 Estate Grown Cabernet Sauvignon
Crocker & Starr 2012 Cabernet Franc Signed by Winemaker
Favia 2011 Cabernet Sauvignon Napa Valley
Hamel Family Wines 2014 Nuns Canyon Vineyard Red Wine
Herb Lamb Vineyards 2014 HL Cabernet Sauvignon
Knights Bridge 2015 Estate Cabernet Sauvignon, Knights Valley
Lamborn Family Vineyards 2014 Howell Mtn. Zinfandel Signed by Winemaker
MELKA ESTATES 2014 CJ Cabernet Sauvignon
Morlet Family Vineyards 2014 'Force de la Nature' Cabernet Franc, Oakville, Napa Valley
Papapietro Perry Winery 2015 Charles Vineyard Pinot Noir Signed by Winemaker
Penner-Ash 2016 Estate Vineyard Pinot Noir, Willamette Valley
Pride Mountain Vineyard 2016 Cabernet Sauvignon Signed by Winemaker
Robert Sinskey Vineyards 2013 Four Vineyards Pinot Noir
Scarecrow 2015 Cabernet Sauvignon
Stag's Leap Wine Cellars 2013 SLV Cabernet Sauvignon
Viader 2015 Napa Valley Red Wine
Williams Selyem Winery 2017 Westside Road Neighbors Pinot Noir
1.5L Magnums:
CIRQ 2013 Treehouse Vinyard Pinot Nior
Miura 2011 Matador' Pinot Noir
Miura 2016 Islero' Chardonnay
Notre Vin 2014 Howell Mtn. Cabernet Sauvignon
Value: $16,000
MOWSF is not responsible for shipping costs outside of the Bay Area.
---
Auction Lot #6
Nico's Chef Nicolas Delaroque + Robert Sinskey Wines: Dinner for 8 in Your Home
Taste Chef Nicolas Delaroque's food and reacquaint yourself with superb Modern-French food with its masterful sauces and subtle amalgamation of flavors. Chef Nicolas Delaroque, and Nico's Michelin Star, will come to your home and weave his exquisite French magic in your own kitchen, cooking a sublime dinner for 8. Every perfectly balanced dish will pair beautifully with a peerless selection of wines from Robert Sinskey Wines for an evening you'll treasure forever.
All food and wine costs are included.
Value: $3,000/Private chef and wine experience — Priceless
Dinner must be booked on a mutually agreed upon dates by winner AND chef, and may exclude weekends.
---
Auction Lot #7
End the Weekend with an Extraordinary Evening in Napa: Chef Laurent Gras of Saison and Angler Prepares Dinner for 8 at BOND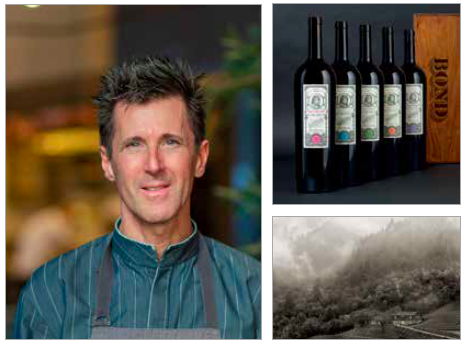 Sourced from select hillside vineyards, the Cabernet Sauvignon wines of BOND vividly demonstrate the range of Napa Valley's finest terroirs. From the more than eighty vineyards they have worked with over the past quarter century, BOND has slowly and vigilantly selected five sites for their Grand Crus, which represent a shared commitment to produce only the best expression of the land.
The best wines deserve the best chef. According to the San Francisco Chronicle, Chef Laurent Gras "is widely considered one of the best chefs in the world" because he has attained the ultimate three-star Michelin rating at four restaurants across two continents. He has cooked in some of the world's finest kitchens including Louis XV in Monte Carlo; Alain Ducasse Paris; the Waldorf-Astoria's Peacock Alley, Fifth Floor; L2O. Joined by Mark Brigt, Wine Director of the Saison Hospitality Group, Chef Gras will cook for you. Don't miss this singular opportunity to enjoy a spectacular evening with Amanda Harlan and BOND Director Scott Gould while Executive Chef and Co-Owner of Saison prepares a private dinner for eight at BOND.
The winners will enjoy all that BOND has to offer and go home with a 2007 BOND Terroir Portfolio en Magnum, featuring one (1) each of their Grand Crus: Melbury, Quella, St. Eden, Vecina and Pluribus.
End the evening close-by with an over-night stay at the Southbridge Napa Valley in the heart of St. Helena.
All food and wine costs are included.
Value: $9,500/Private chef and wine experience — Priceless
Dinner must be booked on a Sunday or Monday night and a mutually agreed upon dates by winner, winery and chef.
---
Auction Lot #8
Luxury Vacation over the Winter Holidays in St. Barths – December 21 – 28, 2019
It's just a dot on the map in the French West Indies, but St. Barth packs a punch when it comes to island sophistication. Chic, elegant and very European, this 8 square-mile island is home to dozens of places to wine, dine, play, and disappear.
Your villa perched on the Colombier hillside with spectacular sunset views of Flamands Bay, awaits your arrival. A collection of bungalows comprises the home, all connected with an intricately laced experience of lush gardens and sunlit terraces. There are three private spaces, each housing a master suite complete with ensuite bathroom and sensational views. The main living space sits in the center of the property where guests can gather to cook in the gourmet kitchen, lounge in the living space or enjoy a meal in the dining room with its unique underwater view of the pool. This residence features a secluded pool, indoor and outdoor dining areas and air-conditioned living room with vaulted ceilings. L'Étoile du Berger is a quick 5-minute drive to the beach, Gustavia and the airport.
Maximum guests: 6 comfortably
Preset Dates: December 21 – 28, 2019
Value: $15,000
---
Auction Lot #9
Evening with Three Good Friends (and Co-Owners of Clos Pissarra Vineyards): Gerald Hirigoyen, Laurent Manrique, and Emmanuel Kemiji – Dinner for 8 in Your Home Paired With Clos Pissarra
When you can't go to the vineyard, bring the vineyard to you! Clos Pissarra Winery in Northeastern Spain was established out of the longtime friendship of Chef Gerald Hirigoyen (Chef/Owner of Piperade Restaurant), Chef Laurent Manrique (Chef/Owner Cafe De La Presse), and Master Sommelier Emmanuel Kemiji (Owner of Miura Vineyards). These three great friends will cook dinner for 8 in your home – naturally, dinner will be served with specially chosen Clos Pissarra Wines. Both accomplished and acclaimed chefs have won numerous awards and distinctions throughout their careers, and are both members of the Maître Cuisinier de France; Emmanuel Kemiji was one of the first Americans to become a Master Sommelier and has been an MS for over 30 years. This is sure to be a night of new heights of deliciousness and wine adventures – and it's much closer than the Spanish countryside.
All food and wine costs are included.
Value: $3,000/Private chef and wine experience — Priceless
Dinner must be booked on a mutually agreed upon dates by winner and chefs.
---
Auction Lot #10
Wine Paired Dinner by Chef Laurence Jossel from NOPA and Overnight Stay at Hamel Family Wines for 6
If you're someone with very limited time to take a vacation – say, one night only – shouldn't you spend that time at one of the most spectacular wineries in Sonoma. Perched on a hillside overlooking the Valley of the Moon and Sonoma Mountain, Hamel Family Wines is renowned for its wines, its setting, its architecture, and its heavenly, golden afternoon light.
Your group of three couples will spend one night in the charming Armor Plate Guest House and Cottage at Hamel Family Wines in Sonoma Valley, overlooking one of California's oldest Zinfandel vineyards which dates back to the 1890s.
During your stay, your group will be treated to a private dinner in the Library at Hamel Family Wines. This unique and personalized wine and food journey includes a privately-guided tour through the Hamel Family Ranch vineyard, winery and adjacent cave. While in the cave, you'll taste a yet-to-be-released Cabernet Sauvignon pulled from barrel. The experience culminates in the Library with sweeping views of Sonoma Mountain and the valley below by Chef Laurence Jossel of NOPA. You may know Chef Laurence Jossel from tasting the much discussed burger at NOPA, or you've heard about all the love he and NOPA have received from Zagat, the James Beard Foundation, and the Saucy Awards. Chef Laurence will prepare a once-in-a-lifetime dinner and just for you and it will be expertly paired with HFW limited production, estate-grown reserve-series wines.
All food and wine costs are included.
Value: $3,000/Private chef and wine experience — Priceless
Dinner must be booked on a mutually agreed upon dates by winner, chef, and winery.
---
Auction Lot #11
When Che Fico Meets The Plumed Horse: Chefs David Nayfeld and Peter Armellino Prepare Dinner For 8 in Your Home
In the coming together of mentor and mentee, Chefs Peter Armellino of the famed Michelin starred restaurant The Plumed Horse in Saratoga joins his former protégé David Nayfeld from the white hot San Francisco darling Che Fico for a one time only event right in your home for 8 of your favorite people. The chefs meet 15 years, and many awards ago as Nayfeld was beginning his career in fine dining and Armellino was at the helm of one of the best seafood restaurants in the nation, Aqua. Since then the two have stayed close and are bringing their love of the Northern California landscape together to showcase some of the most beautiful products grown in the world.
This amazing dinner will be paired with Peter Michael Wines from the Michael family's private library. Wine Spectator, Food & Wine, and The Wine Advocate have all given these bottles top marks. The property remains true to the family's founding vision: growing classic grape varieties in small mountain vineyards to produce great wines using classical winemaking techniques.
Have it all right in your own dining room!
All food and wine costs are included.
Value: $3,000/Private chef and wine experience — Priceless
Dinner must be booked on a mutually agreed upon dates by winner and chefs.
---
Auction Lot #12
An Alexander Valley Food & Wine Experience for Four
Two Couples will enjoy a two-night stay at Barbara Banke's beautiful Alexander Valley Estate, The Redwoods. This mountain top accommodation will set the stage for a food and wine filled weekend like no other. On the first night of your getaway after you arrive, refresh and prepare for a VIP dinner at SingleThread Farms with famed Chef Kyle Connaughton. Kyle will prepare an exquisite farm-to-table meal paired with specially chosen wines from the Spire Collection. You will savor each course that has been thoughtfully crafted with local ingredients presented in artisan serving vessels handmade expressly for SingleThread Farms.
The following day you will enjoy a tasting and picnic lunch at Spire Estate Fieldstone Vineyard in Alexander Valley. This is a unique opportunity to explore and connect with their curated portfolio of rare and limited production wines from across the globe. Your journey begins at the Spire Collection Estate, then takes you to five countries on four continents. Including notable wineries like La Jota Vineyard Co., Howell Mountain and Mt. Brave, Mt. Veeder in Napa Valley, Arcanum in Tuscany and Hickinbotham Clarendon Vineyard in McLaren Vale, Australia.
To top off this experience, you will be treated to a private VIP dinner at the Redwoods featuring Nancy Oakes, Gala Chef Chair and Boulevard Executive Chef and Owner. Chef Nancy Oakes is a pioneer of haute American cuisine. Her unparalleled standard of excellence and accessible yet groundbreaking dishes have kept patrons returning for decades. For this special dinner, she will excite your taste buds and you will have an up close and personal view of her talents. Dinner will be paired with wines from Legacy winery and other Spire Collection wines. Legacy's Red Wine and Chardonnay are hand-selected from the appellation's soaring mountain estates, hidden heritage sites, and storied old vines. Crafted by winemaker Graham Weerts since 2004, these wines capture the soul of Alexander Valley in each vintage. From canopy management to the final blend, winegrowing decisions put quality and longevity first. Enduring and profound, these wines are a legacy in the truest sense of the word. All this is a food and wine experience to not be missed.
All food and wine costs are included.
Value: $6,000/Private chef and winery experience — Priceless
To be redeemed by June 1, 2020, on a mutually agreed upon date with a minimum of 60-day notice.
---
Auction Lot #13
Lunch Al Fresco with The Hirigoyens: Father and Son Host Lunch for 12 at The Hirigoyen's
Chef/Owner Gerald Hirigoyen (Piperade Restaurant) and his son, Winemaker Justin Hirigoyen (Spring Mountain Vineyard), collaborate to bring you the ultimate outdoor lunch for 12 at Gerald's home in Marin. Gerald exposed Justin early and often to fine food and wine, and the two have enjoyed endless wonderful meals together. Now, they want to share their love of food and wine with you!
Gerald is responsible for the Basque delectables at Piperade; he was voted San Francisco Chef of the Year twice, was the recipient of Food & Wine Magazine's Ten Best Chefs in the country, and most recently, a member of the prestigious Maître Cuisinier de France.
Justin was trained in France at various wineries, and a graduate of enology school in Beaune, Burgundy. Since 2014, Justin has been the winemaker at Spring Mountain Vineyard, whose most recent wine was ranked over 90 points by Wine Spectator, Wine & Spirits, and Wine Enthusiast.
Put your afternoon in the hands of this father and son team, and experience the family's signature love of creating unparalleled meals together.
They might even treat you to a raging game of Petanque on their own home court!
All food and wine costs are included.
Value: $3,000/Private chef and wine experience — Priceless
Dinner must be booked on a mutually agreed upon dates by winner, chef and vintner.
---
Auction Lot #14
Once-in-a-Lifetime Buy-In Dinner: James Beard Nominees with Williams Selyem Wines
Preset Date – Sunday, March 1, 2020
Price is $5,000 per couple.
Mark your calendar for Sunday, March 1, 2020. This is a must-eat buy-in dinner prepared by top-notch, preeminent chefs in San Francisco. If you tried to count on your hands all the major awards their work has been nominated for — you would run out fingers before you even got started.
To complete each course Williams Selyem Vice President of Winemaking, Jeff Mangahas, will collaborate with your chefs and hand-select each and every wine including coveted wines from their library selection.
A perfect night out with friends, this once-in-a-lifetime evening is one that you will not soon forget.
Participating chefs include:
David Barzelay of Lazy Bear
Stuart Brioza of State Bird Provisions
Val Cantu of Californios
Ravi Kapur of Liholiho Yacht Club
Pam Mazolla of Prospect
Thomas McNaughton of flour+water & Central Kitchen
Nancy Oakes of Boulevard
Gayle Pirie & John Clark of Foreign Cinema
Charles Phan of The Slanted Door
Staffan Terje of Perbacco
All food and wine costs are included
Value: $500/Private chef and wine experience – Priceless
This dinner has been pre-determined for Sunday, March 1, 2020
---
Auction Lot #15
VIP Tasting and Education for 14 – Favia Wines, TOR Wines, and lunch at Brix with overnight at The Westin Verasa Napa
Be welcomed at Favia Winery, where the recently restored buildings and grounds breathe new life into the estate's 1886 roots as a winery/garden belonging to the first Italian immigrants to Napa. You'll enjoy an extensive tasting and wine education with vintners Annie Favia and Andy Erickson's for 14 people. Between these two there are over two decades of wine knowledge and with the wide variety of wines that Favia produces you'll not only taste some of the best wines; you'll learn about all the different regions and wines Annie and Andy have been involved with over the years.
After this rarest of days, you'll retire to The Westin Verasa Napa for a night of rest. Blending downtown convenience with a resort-like setting on the Napa River, The Westin Verasa Napa offers travelers a boutique destination from which to confidently explore Napa Valley. Which you'll need, because the next day you will visit the elite TOR Winery in St. Helena where you will receive a rare and exclusive opportunity to peek behind the curtains and walk the haloed soils of the legendary Beckstoffer To Kalon and Vine Hill Ranch vineyards with Matt Deller, Masters of Wine and Chief Operating Officer for TOR Wines. You'll hear the stories and get a perspective of these vineyards that few will ever see. Afterward enjoy lunch at the newly renovated Brix Restaurant, with 96-100 point wines from the incredible blocks and vineyard you have just walked through. Not only will you have plenty of wine and food, but you'll also leave with a deep understanding of the wine, the terroir, and their history.
Favia tasting can ONLY be Monday – Friday. No weekends available.
All food and wine costs are included.
Value: $3,000/Private wine experience — Priceless
Must be booked on a mutually agreed upon date by winner and vintners.
---
Auction Lot #16
Modern Morocco: Chef Mourad Lahlou Cooks Dinner for 8 in Your Home
Each plate is pure craft. A visual composition that's arranged but not precious, and a series of tastes composed of opposites: traditional and modern, sweet and bitter, tart and creamy. The kinds of dishes you want to take your time with. Michelin-Starred, and many time James Beard Nominee, Chef Mourad Lahlou brings his artistry to your home to prepare a jewel of a dinner for 8, harmonized wines that he will hand-select.
All food and wine costs are included.
Value: $3,000/Private chef and wine experience — Priceless
Dinner must be booked on a mutually agreed upon dates by winner and chef.
---
Auction Lot #17
Personally Guided trip to Italy with Chef Nancy Oakes for Four
Two couples will join Gala Chef Chair Nancy Oakes on a personally guided trip with some of Nancy's favorite people in the world, not just in Italy! Meet in the heart of Umbria at acclaimed chef, restauranteur and dear friend of Nancy Oakes, Nancy Silverton's house in of Panicale. Stay two nights in a local home organized by Silverton in her Umbrian medieval hilltop village. Visit Silverton's favorite local spots during your two days in Panicale. The highlight will be a leisurely meal prepared by Nancy & Nancy using the freshest seasonal ingredients the local markets have to offer. After you've enjoyed the Umbrian countryside and Chef Silverton's Italian hospitality, head to beloved Tuscany.
Enjoy two nights in San Gusmè, a small walled village set on top of a hill. The town is surrounded by the estate of Tenuta di Arceno, home of Arcanum. You will stay at the Jackson Family's newly renovated apartments. Enjoy luxury accommodations, long walks through the surrounding vineyards and the warmth of the ancient town. As you settle in for your stay under the Tuscan sun you will be treated to a private VIP tour and tasting at the winery along with a delicious Tuscan lunch.
During your stay in Tuscany, you will tour with the famed author and Italy expert, Faith Willinger. Faith has spent more than four decades exploring Italy, traveling to track down the best restaurants, regional cooks, artisans, winemakers, and markets. Along with Chef Nancy, you will see Italy through Faith's eyes, including a VIP lunch at Castillo de Ama and wine and olive oil tastings.
Save room for the grand finale dinner at Dario Cecchini's, the legendary butcher of Panzano's restaurant Antica Macelleria Cecchini. Let Nancy and Dario guide you to the choicest cuts over a live fire menu paired it with the best that Tuscany has to offer.
Air transportation not included.
All food and wine costs are included.
Value: $6,000/Private chef and wine experience — Priceless
Must be booked on mutually agreed upon dates – holidays may be excluded
---