Posted April 27, 2015

At Meals On Wheels of San Francisco, we are lucky enough to serve a dozen centenarians. According to the US Census Bureau, Centenarians, people 100 years or older, make up only 0.2% of the total U.S. population, which is around 55,000 people. Just so you get a sense, by comparison, the 65+ population is about 40 million people, or 13 percent.

Still, worldwide, the number of people living past the age of 100 is on the rise. In 2012, the UN estimated that there were 316,600 centenarians across the globe, as opposed to 23,000 in 1950.

There is even a special name for those who are living far beyond average life expectancies — "supercentenarians" — or people who live to or beyond 110 years of age. Only one in every 1,000 centenarians will make it past this benchmark.

Here are seven inspiring stories we found from around the world about this special subset of the population.
1. 102-year-old Dancer Sees Footage of Her Dancing for First Time
"Don't mean a thing if it ain't got that swing."
Source: 102-year-old dancer watches herself perform for the first time
2. South African Centenarian Goes Skydiving for Birthday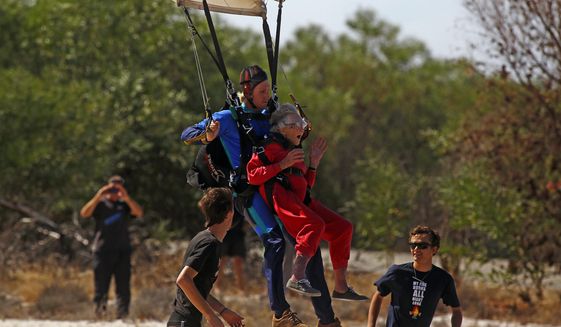 Georgina Harwood wanted to do something special for her 100th birthday — swimming with sharks and skydiving.
Source: Georgina Harwood, 100, swims with sharks, goes skydiving for birthday – Washington Times
3. Portraits of Centenarians from around the World
Source: PAPERMAG Galleries: A look at Photographer Sally Peterson's Gorgeous Portraits of Centenarians
4. 100-year-old Completes in 1,500-Meter Backstroke
Source: Woman first 100-year-old to complete 1,500-meter backstroke | New York Post
5. Live to 100: Aging Secrets from the People of Sardinia
If you're hoping to live to 100 and beyond, you might consider becoming a shepherd.
Source: Live to 100: What we can learn from the people of Sardinia – TODAY.com
6. Husband, 108, Wife, 105, Celebrate 82nd Anniversary
Secret for a long and health life? "That's God," he says.
Source: Husband, 108, wife, 105, celebrate 82 years married
7. 104-year-old San Franciscan Remembers 100-year-old Panama-Pacific International Expo
Weilerstein, one of the few survivors from the fair, was delivered by his mother via streetcar to the Education and Social Economy Palace, where he took his seat in the "Glass Classroom" as one of 20 to 30 lucky kids chosen to attend school every day for four months at the fair …
Source: Class act of the 1915 fair: 104-year-old remembers – San Francisco Chronicle